The phrase 'practice insights' was something that I heard very often in my first couple of weeks at FreeAgent, between wrapping my head around the data model and trying hard to remember everyone's names. The reason I mention it in the context of the first couple of weeks is because at that point I didn't fully know what it meant. Of course I knew what the words meant, and I knew that this phrase was the base for my project but delivering these 'practice insights' seemed like the answer to a question that I hadn't yet figured out. 

After just the first couple of meetings I began to realise that, with my project, there was potential to have a real impact on the accountancy practices we work with by providing them with information about how their clients use FreeAgent. The question, for me, felt like 'how can we use our data to understand and empower our accountancy practice partners?'. This aligns with one of our company-level objectives; to delight the accountancy practices we work with, so I set out to try and answer this question to the best of my ability.

Project summary
My project has two main stages which will hopefully link together towards the end of my internship. The first stage was the creation of insights dashboards to show details of accountancy practices and their activity, which are now being trialed in the company. The second part of my project consists of segmentation of customer behaviour to measure engagement. In this post I will be talking about step 1: the dashboards.
Getting information at a glance: dashboards
At this point you might be wondering what I mean by 'dashboards'. In this context a dashboard is a grid of summary plots to provide accountancy practices with high-level information about their FreeAgent usage, benchmarked against their peers. Throughout this section I'll provide some examples of the visualisations we share with FreeAgent's practice partners. The tool we use at FreeAgent to do this is Looker, which is a business intelligence software. Having never worked with Looker before it was daunting in the beginning, but after a few weeks of running queries to get a feel for it, it became second nature to explore our data and get the results I needed in minutes. 

There are three dashboards, the first shows aggregated overall insights into the accountancy practices, the second shows insights for a specific accountancy practice (Figure 1), and the third shows insights for a specific company. The idea is that they each link to each other and can be used in conjunction to get a better overall view of the accountancy practice partners and their clients. I'll talk through a couple of the plots from the practice specific dashboard and why they could be of interest, which will hopefully give you a good overview of the sorts of things they can be used for without going into too much detail.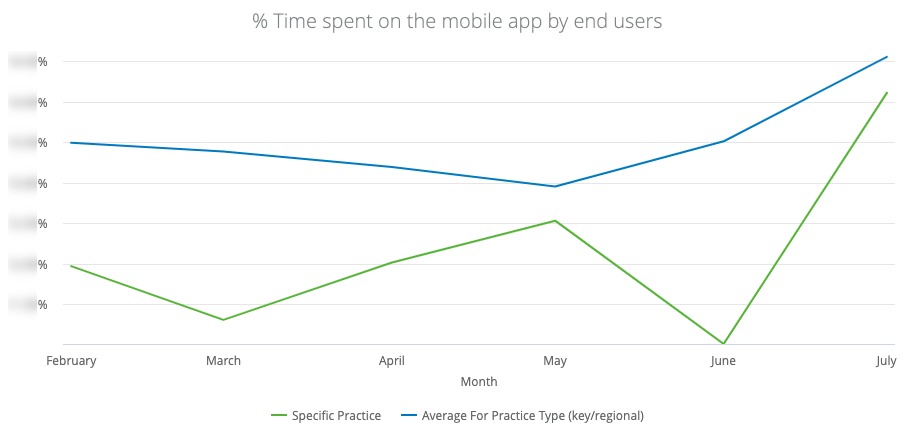 The plot in the top left corner of the dashboard (closeup in Figure 2) displays the percentage of total time spent on the FreeAgent application that is accessed via the mobile app, averaged across the clients of this specific practice by month. The green line shows the average across all clients of the specific practice and the blue line shows the average across clients of all practices. This visualisation quickly summarises adoption of the mobile app by accountancy practice clients  and provides an opportunity to start a conversation with a given practice on whether they are aware of different mobile app training that we offer.
A few of the plots refer to the 'account manager usage ratio' (Figure 3, Figure 4). This is defined as the fraction of a client's FreeAgent usage that can be attributed to an accountant assuming the clients FreeAgent account. We would expect this ratio to decrease over time if an accountancy practice is managing to onboard their clients efficiently. The bar chart shown in Figure 4 allows us to explore how practices stack up against this expectation by plotting  the account manager usage ratio for different FreeAgent tenure groupings. In the example shown, we can see that this specific practice has a lower account manager usage ratio in the beginning of their client's time with FreeAgent, which then increases over time. This information can be used to frame a discussion with the practice about their onboarding journey and the time they spend continually maintaining their client's records.
Another useful visualisation is the scatter plot in the bottom right hand corner (Figure 5). This plot displays end-user usage in minutes versus account usage in minutes, with each blue dot representing a company. Companies with high accountant or end-user usage are easily spotted in this visualisation, allowing for especially time-intensive companies to be examined in more detail. To do this, each of the dots in this scatter plot provide an option to drill into the company specific dashboard by clicking on it.
Company specific dashboard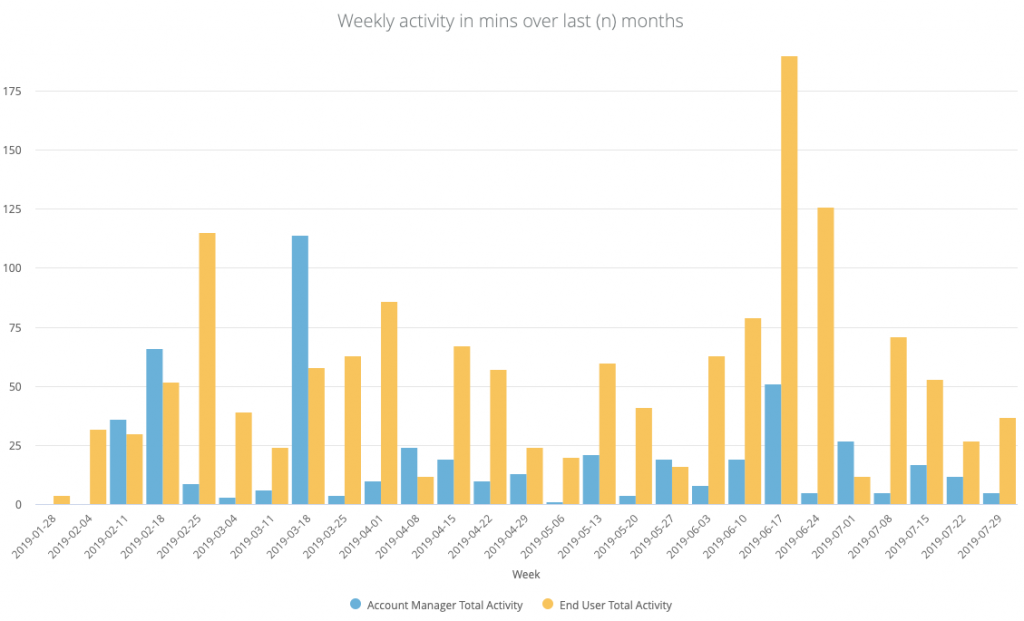 The company specific dashboard contains some panels which provide general information regarding the company's name, subscription status, type, last known active date, number of days since activation and number of active bank feeds. It also shows a breakdown of usage between the accountant and end-user by week (Figure 6), a list of the actions they frequently perform whilst using FreeAgent and a bar chart showing the media used to  access the FreeAgent application (Figure 7).

Day-to-day dashboard usage
These dashboards were created with the purpose of helping teams within FreeAgent understand the accountancy practices as well as having the possibility to inform the accountancy practices themselves about their data. Collecting and warehousing information on the activity and usage of both companies and accountancy practices has allowed us to delve deeper into FreeAgent usage patterns and to develop a new tool to aid our communication with our practice partners. I'm glad to say that these dashboards have been really well received by everyone involved, and are being used to drive conversations with practices already!
This project has been really exciting for me, especially due to the opportunity to create something that could actually be adopted into the day-to-day work of other people within the company. I didn't expect to be so involved across multiple areas of the business during my internship, but the positivity and support that I have received throughout this project has been really outstanding. I can't believe that there are only a couple of weeks left now, the summer really has flown by.